Babymooning in San Fransisco
It's very near the end of the second Trimester here at Chez Fiala, and so before the moratorium on flight began with the third, Tammy and I decided we wanted to get out of the house for our last big vacation before the little one is born. Apparently, this somewhat common practice has gotten the name 'babymoon'. We talked it over, and having been in San Fransisco a year earlier for Drupalcon, we decided to fly out there. We decided to keep it small and intimate - just the pair of us wandering the city as whim took us.
Naturally, this meant our flight out was an hour late.
Which meant we got into SF even later, and so instead of saving money and trying to take the Bart, we ended up taking an airport shuttle to the hotel, which was the Marriott Marquis downtown. It's a nice hotel, although the pillows are a bit of a pain. But I was so exhausted we didn't much care. Into bed!
The next day we wandered around trying to find something interesting for breakfast. Yelp's nearby suggestions didn't really pan out, so we returned to a 50's diner called Mel's Drive In (which isn't a Drive-In) for some french toast and other food. That ingested, we took off for Japan Town, pausing to get a one-day bus pass so we could go about the city at will.
Last year when we'd been out for Drupalcon, Tammy had brought me out to Japan Town one night, after most things had (sadly) closed. The main part of it we'd been through before was the shopping district, basically an extended mall with various Japan-oriented stores, from food (lots) to toys, stationary, books, videos, art, and so on. This year we returned to the area and enjoyed looking about. One highlight was visiting the Paper Tiger, an Origami and Craft store that also had a modest collection of outstanding origami models, along with photographs of some big name folders. (I took a picture of the front window.) It was so cool I ended up buying some more paper and a neat box to hold paper in.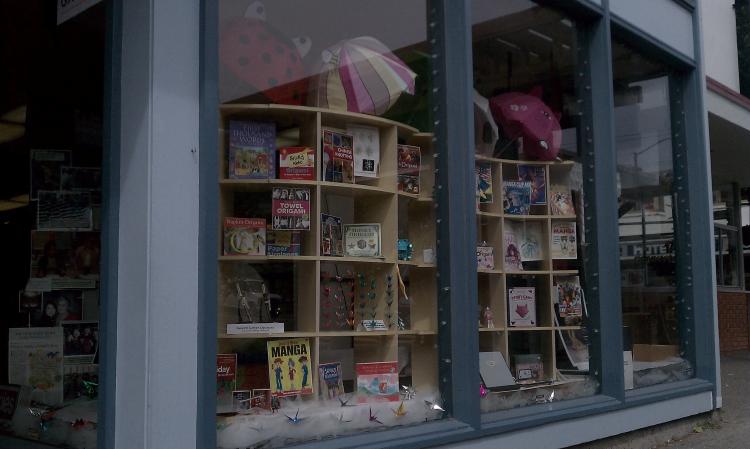 After that we wandered around the area, taking a look at the Kabuki hotel, and then going back inside of the mall, where we got a small snack of gyoza and sushi. We wandered through shops, picking up a tshirt here, a bit of baby clothing there... the big purchase was when we ended up in a book store with a small section dedicated to Miyazaki, where Tammy picked up a new Totoro backpack - well, it's a backpack for a small child, but for her it's a new purse. That's also where I found Origami Tanteidan 16th Convention, which is a collection of fiendishly hard origami folds from a convention. Finally we ended up having some indifferent Ramen and headed back to the hotel for some rest. Going back involved missing a bus to take us all the way back, so we ended up walking a little more. This let us find a neat Ghirardelli store for some chocolate, and also we went into this silly Ferrari store where they had all sorts of red merchandise, most of it with wheels.
After a nap, we headed out to Fisherman's Wharf, where we found a restaurant called The Blue Mermaid where I had some lovely crab cakes with salad and my wife had some parmesan encrusted scallops - Scallops being just about Tammy's favorite seafood. With that we wandered around the wharf for a bit, looking here and there, before we hopped on another bus to take us to a ritzy shopping area that Tammy had seen on her last visit. Most of the stores were already closed when we got there, but we did find this one fantastic little chocolate boutique which had the most astounding-looking treats. We got a tiny 5 piece assortment box which we haven't yet dared to break into. Again, we were dragging, so we headed back to the hotel and relaxed.
Sunday dawned at 8 for us, and after our morning wake up we decided to head off to Chinatown, where we discovered... that nothing opens in Chinatown before 10. Ah, well. We had a bit of Dim sum at a bakery, and then wandered through a few other stores that had opened, getting talked into buying a t-shirt and a cute outfit for the coming baby. With that done, and with those lovely hills walked, we worked our way back to the hotel and found the Starbucks open. We relaxed, having a few drinks, and then went upstairs to pack, and from there finally back to the airport to go home.
Where, of course, the flight was delayed again for an hour. Ah, Southwest. Still, we finally got home, and I'm looking forward to another week at my new job!
And I'm looking forward to August too! :)